On our route to Sturgis, lies a small town with a BIG secret. Bigfoot. The small mountain town of Willow Creek, California is the unofficial "official" Bigfoot capitol of the world. Every year residents of the town hold a festival to honor the creature, and even built an official museum in his honor. We'll be stopping through here on our ride, and with a little bit of luck, maybe we can convince Bigfoot to join us on our ride as our mascot.
Bigfoot sightings can be traced all the way back to Native American legends in this area, and the earliest known written account, was in 1880, near Crescent City, California. Sightings continued, but Bigfoot was brought back into the spotlight in 1935 when massive tracks were found in the snow on a nearby mountain, and again in 1958 when Bob Titmus made these casts of "alleged' bigfoot tracks in the hills near Willow Creek.
The creature is sighted so often now in this area, that the town of Willow Creek officially celebrates "Bigfoot Day" every labor day, and even has a statue in the center of town dedicated to the furry creature. Perhaps he'll run for Mayor? Many Bikers stop here each year to take a picture with the mythical giant, and so will we!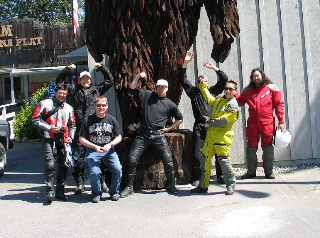 As we travel through Crescent City, with our arsenal of video and photography gear, we'll be looking for Bigfoot as we ride through his hometown. We'll be hoping to donate to Bigfoot's campaing for mayor, and while it's not likely we'll find him, we can keep our camera's ready and our eyes peeled. Whether you believe in Bigfoot or not, Willow Creek and the Bigfoot museum is definitely on our list of things to check out. So whether or not LRS is the first to take a ride with Bigfoot, stay tuned for our next portion of LRS Myths, Legends and Tales from the Road...
By Jeremy West