For decades the most prolific American made touring motorcycle on the roads has been and perhaps will continue to be the Harley Davidson Motorcycle. This "Rider" has been an avid Harley fan and will continue to love the empire Harley has built. However contrary to my history, recently my two wheeled soul has been seduced by a new and equally quintessential motorcycle offering. It has been the recent resurrection of an iconic brand of yesteryear that has many bikers (Myself included) considering the switch from our mainstay brand to the new and potentially even more nostalgic INDIAN!
NEW WINDSHIELD BY LRS ON INDIAN CHIEFTAIN
In 2013 Indian announced a new line-up of INDIAN motorcycles built by the POLARIS company and after having tried them all I would have to admit to the fact that they are phenomenal. Although some may argue a new brands efficacy, or might take issue with some of the early issues with the new engine design, as a manufacturer I know that any new product will have its bugs. To me it is about the overall sensation of the motorcycle and the spirit it brings to the road.
HERE ARE THE NEW BIKES
After putting a few miles on each of the new models, My favorite of course was the Chieftain. What I loved about it was the smooth ride mixed with the deep sounds and the mesh of old and new; the bike just made sense. The best feature in my opinion was the windshield and fairing system which like some of the other modern German and metric bikes, was a motorized adjustable system. This allows the best of performance and comfort on the highway, all the while allowing the freedom and airflow that most motorcyclists find desirable in the bending back roads.
For me the potential switch wont be an abandonment of Harley, but the embracing of a long lost brother. If ever there was a reason to own two bikes, I now have it! The Indian is a piece of our heritage that many may have discounted or left to the side of the road, but the new bikes do an excellent job of remembering the pioneers and bringing nostalgia to the motorcycle experience.
Now that I have rationalized my unnatural thoughts and wicked motorcycle desires lets review the history of this ancient Juggernaut.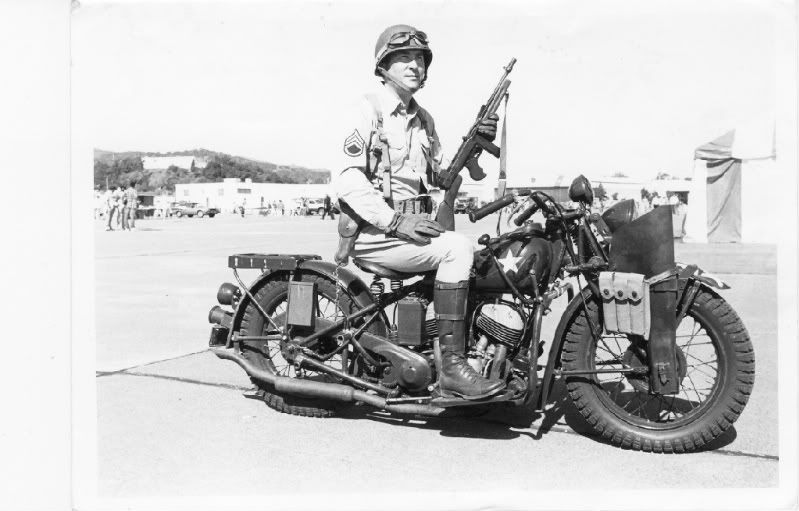 THE FOLLOWING INFORMATION IS FROM THE INDIAN WEBSITE
1901
Prototype and two production units successfully designed, built and tested.
1902
First Indian Motorcycle®, featuring innovative chain drives and streamlined styling, sold to public.
1903
Indian Motorcycle® co-founder and chief engineer Oscar Hedstrom sets world motorcycle speed record (56mph).
1904
Crimson Steed of Steel paint scheme introduced; Indian Motorcycle® wins Gold Medal for Mechanical Excellence at St. Louis Exposition.
1906
Indian Motorcycle® releases first American production V-Twin after several years of development and testing; 101 years later V-Twin remains most popular cruiser-motorcycle engine design.
1906
George Holden and Luis J. Mueller ride an Indian Motorcycle® from San Francisco to New York City in 31 trouble-free days, breaking the existing record by over 18 days.
1906
A 1907 Indian Motorcycle® Twin wins the first English 1000-mile reliability trial.
1907
New York Police Department selects Indian Motorcycle® for first motorcycle police unit.
1908
Indian Motorcycle® "loop frame" positions gas tank on front horizontal frame member, other makers eventually follow suit; basic configuration still used by virtually all motorcycles.
1920
It's a decade of growth for the Indian® model line, starting with the revolutionary 1920 Scout® and followed by the 95-mph Chief®, the even more powerful Big Chief®, the lightweight Prince, and the awesome 4-cylinder Four.
1920
First use of semi-unit construction is utilized in the introduction of the Indian® Scout®.
1922
Indian® Motocycle becomes first company in America to use "leakproof" aluminum primary cases; competition retains leaks for decades.
1922
61 cubic inch Indian® Chief® is introduced.
1923
When motorcycles began to appear in the late 19th century, there was some uncertainty about what to call them. Some journalists used "motocycle," some used "motorcycle." The Hendee Manufacturing Company chose "motocycle," changing the name to Indian® Motocycle Company.
1923
74-cubic-inch Big Chief® V-Twin introduced.
1927
Four-cylinder Indian® Ace introduced.
1928
101 Scout® becomes the machine of choice for "wall of death" stunt riders.
1930
The Art Deco era hits the Indian Motorcycle® adorned in a full range of Duco colors, two-tone designs, pinstriping, and decals.
1932
Two new lightweight models debut – the Motoplane and the Pony Scout®.
1937
"Iron Man" Ed Kretz, aboard a Sport Scout®, laps the entire field in his win at the 1937 Inaugural Daytona 200. Indian® introduces first motorcycles with dual carburetors.
1939
With the onset of World War II, focus again shifts to providing the War Department with motorcycles. The government of France orders 5,000 Chiefs with sidecars.
1940
Indian Motorcycle® pioneers use of "plunger" (spring coupled to an oil-dampened shaft) rear suspension; introduces trademark full-skirt fenders (aka valences). Production during the war years is mainly military and police vehicles.
1941
Indian Motorcycle® begins production of advanced shaft-drive, four-speed military motorcycle.
1943
Indian Motorcycle® wins Army-Navy Production Award.
1945
The company is sold and consolidated into the Torque Engineering Company. Later the company is divided with manufacturing going to the Atlas Corporation and distribution to The Indian® Sales Corporation.
1947
Johnny Spiegelhof wins the Daytona 200 aboard a Sport Scout®.
1948
First Daytona 200 held on new beach/road course won by Indian® rider Floyd Emde on a 648 Scout.
1951
Following the war, Indian Motorcycle® struggles with re-entry into the public market. The Chief®, dropped for a year, is re-introduced in 1951 as a mighty 80-cubic-inch model, but sales continue to decline and Indian is forced to halt production in 1953.
1967
Herbert "Burt" Munro rides his self-modified 1920 Scout® to an under-1000cc land-speed record at the Bonneville Salt Flats. Forty years later, Munro and his Indian's record still stands.
1998
A complex web of trademark rights foil numerous attempts to revive the Indian® name until several formerly competing companies merge to become the Indian Motorcycle® Company.
1999
Manufacturing begins, but the venture proves unsuccessful.
2003
The company's final model year.
2004
Stephen Julius and Steve Heese, after resurrecting the struggling Chris-Craft® Boat Company, turn their attention to Indian Motorcycle®. They acquire trademark rights and intellectual properties. Chris Craft® is a registered trademark of CC MARINE BRAND ACQUISITIONS LLC.
2008
Production begins and 2009 Indian® Chief® motorcycles start rolling off the assembly line in Kings Mountain, NC.
2011
Polaris® adds one of motorcycling's legendary brands to its strong stable of Victory® cruiser and touring bikes. Indian Motorcycle® will operate as an autonomous business unit, building upon the potent combination of Polaris' engineering acumen and innovative technology with Indian Motorcycle's premium brand, iconic design and rich American heritage.
2012
Final year the Kings Mountain Chief® platform is produced.
2013
A new era of Indian Motorcycle® is born, starting with the reveal of the Thunder Stroke™ 111 engine at Daytona Bike Week in March and the unveiling of the 2014 Indian® Chief® at the Sturgis® Motorcycle Rally in August.