Harrison Ford on an early Harley
The list of famous Harley riders is almost as long as this motorcycle's history. Today we explore some of our favorite and respected celebrity riders.
Among the first women ever to ride to Sturgis were The VanBuren Sisters, Augusta and Adeline, and
though it's not documented, the very first woman to ride a Harley Davidson motorcycle was more than likely Janet Davidson. Janet was an aunt of Arthur, Walter and William Davidson. She helped her nephews by using her artistic talents to paint pinstriping and lettering down the sides of their motorcycles.
So here, for your entertainment, is the low-down on some of the more famous Harley riders of our time.
Michael Forbes with Elizabeth Taylor
Malcolm Forbes, the founder of Forbes Magazine and reportedly one of the wealthiest men ever, is our first celebrity in the spotlight. He enjoyed riding Harleys so much that he quickly amassed a collection of more than 50 Harley Davidson motorcycles. He shared his passion for Harleys with his longtime friend, Elizabeth Taylor. His personal endorsement of this brand of motorcycle helped sales soar to even greater heights.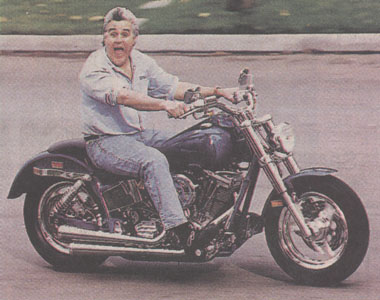 Jay Leno on his first Harley
Jay Leno, famous late-night television celebrity, is a proud owner and rider of several Harley Davidson motorcycles, too. In fact, this celebrity is one of the few famous Harley riders to actually enjoy getting his hands greasy by doing his own maintenance and repair work. That is attributed to Jay's first job as a mechanic, which he held during his years in college.
Dennis Hopper and Peter Fonda in Easy Rider
Brigitte Bardot was a famous movie star and pinup star in the 1950's. In the 1960's she became so enamored by Harley Davidson Motorcycles that she debuted her hit single entitled Harley Davidson. Also popular was a photograph of her astride her favorite motorcycle. She is wearing hot pants and a partially unzipped leather jacket.
And who can forget Dennis Hopper and Peter Fonda, probably the most famous Harley riders of all time. The photo from a scene in the 1969 movie Easy Rider of the two of them atop their Harleys was seen around the world and is still one of the most sought-after and most recognizable photos of all time.
'The King' Elvis Presley
Elvis Presley was known to have a Harley or two, and photographs of this legendary music icon riding his Harleys are just as popular as the Easy Rider photograph. Elvis would roam the streets of Memphis for hours with fellow Harley riders enjoying the fame of being 'The King.' His favorite and most portrayed model of motorcycle was the Harley Davidson Road King.
Some other famous Harley riders include Don Johnson, Jackson Browne, Mickey Rourke, Arnold Schwarzenegger and Tina Turner. During an appearance in his campaign to become President of the United States, then Governor Bill Clinton happily posed astride a Harley.
Article Based On:
Celtic Thunder Hogs